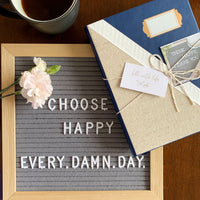 Sooo...what is it?
It's the easy way to journal. And it only takes 15-seconds a day!
The notebook is designed with happiness at its core. It's a place to help you power through life with a lighter, brighter mindset and a new appreciation for the moments that bring a smile to your face: the spontaneous BFF coffee dates, that extra push of the snooze button, a killer morning workout, and every moment of joy in between.
The concept is simple.
15-seconds a day to jot down something—anything—that made you smile. That's called a "happy note". It's a 15-second workout for your brain (like a mental fitness practice) to keep you living your happiest life. No lofty words of wisdom required. Just a quick note to yourself to celebrate and remember a feel-good moment, as you charge through life.
Go ahead, think happy. I dare you. xo Linds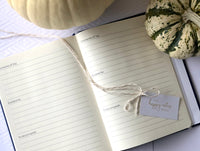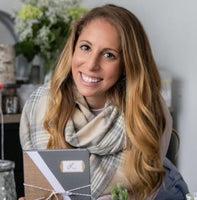 Meet the Founder, Lindsay P.
That's me! I've been jotting Happy Notes to myself for years, with a stack of memory-filled notebooks to prove it. The idea was born when a close friend encouraged some positive thinking during a less happy time in my life. In an attempt to keep these notes inexcusably convenient, I flipped to the back of my work notebook and took 15-seconds to spark joy, which in turn started the 'happy notes' self-love ritual I've sworn by ever since. 
Every element of this notebook was designed to spark joy and spread happiness! I hope you find, and celebrate, your happy place filling these pages.